TikToker's Home Depot Tiny House Started a Viral Debate
TikToker Robert Langford sparked a viral debate on the feasibility of living in a tiny home after he showed off his decked-out Home Depot backyard shed.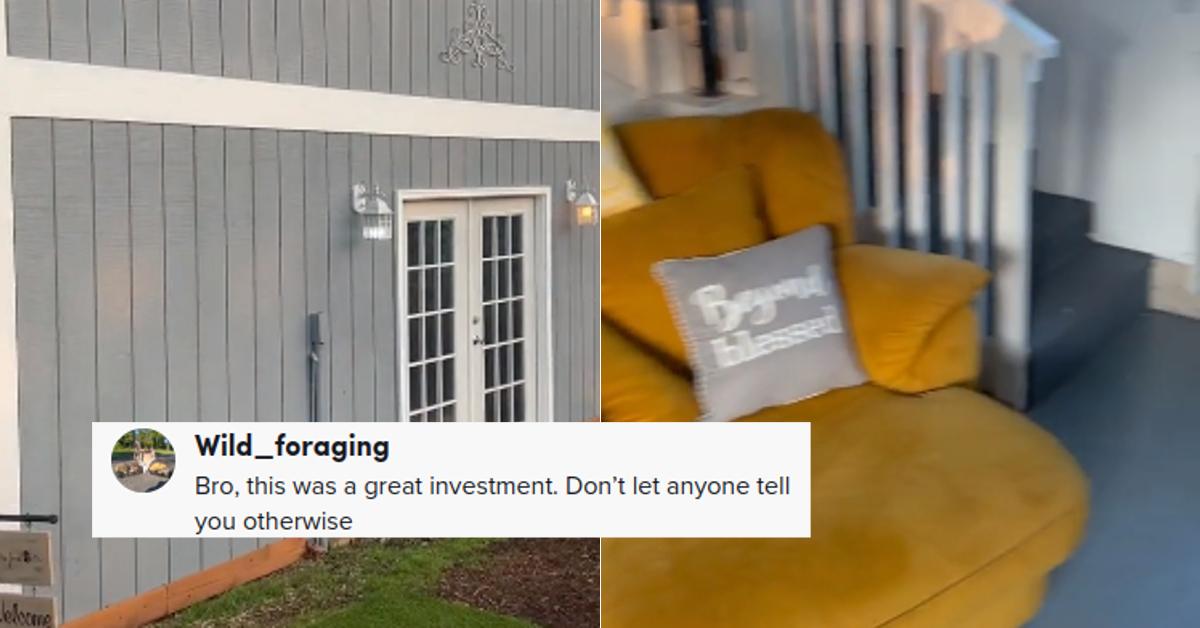 Owning a home in the United States is becoming a pipe dream for more and more citizens. In some parts of the country, unless you're completely debt-free and not only earning enough cash to afford a fat mortgage payment, along with having a high enough credit score to get approved financing in the first place, you also are expected to front the bill for constantly increasing property taxes.
Article continues below advertisement
This means that you have to pay even more money just for the privilege of owning a piece of property that you're already paying for in the first place.
Even if you're lucky enough to pay off your property, you'll still need to fork over annual taxes just to make sure that it isn't seized by the government and pawned off at a tax sale.
Article continues below advertisement
So not only is home-owning becoming prohibitively expensive, but those who are manufacturing/remodeling these homes are receiving an influx of complaints as to their quality. Meaning that the most costly purchase in someone's life oftentimes ends up becoming something that they don't even want in the first place.
Well, TikToker Robert Langford and his fiance Andrea Jones opted for a solution that many other folks are finding more and more attractive these days: tiny homes.
Article continues below advertisement
They highlighted a massive backyard shed that was being offered by the Home Depot, complete with installation and full building materials, that could be financed for around $252 a month. A Duet of the clip with fellow user Marcel Monroe reacting to the house and all of its amenities, conceding for that amount of money, it's a pretty darn good deal.
Article continues below advertisement
"Ya'll, there's a post going around saying apparently you can get a house from Home Depot now. You can't beat these prices at all. Inflation is on the rise. We about to go on a recession," Marcel said.
There are tons of materials and resources that have highlighted the pros and cons of Tiny Home life, however, it's hard to deny that it's definitely a more cost-effective solution than renting.
Article continues below advertisement
Some Tiny Homes are even built on towable hitches, meaning that folks can hook them up to a reliable car and drive around the country. With a boom of remote work opportunities available, many Americans could live like nomads and even shack up their towable trailers at campgrounds/RV parks for utility hookups.
Article continues below advertisement
Or they could build a stationary "shed house" like Langford, complete with the scaled-down amenities/necessities other, full-sized homes require. Robert said that the backyard shed took about five years to complete and cost him $50,000 to turn into its full homely glory.
Article continues below advertisement
Tons of commenters thought that it was "sad" many millennial and Gen-Z people are having to seriously consider living in structures intended as sheds in the United States.
The Home Depot offers an array of different backyard shed and Tiny Home kits. If you're thinking about purchasing one, make sure to read the item description to itemize what exactly is being offered in the product package.
Article continues below advertisement
Some of the kits just sell aluminum framing for the tiny home, so make sure that the Home Depot you're buying from will also be willing to set up the basic structure for you. Of course, you'll need to mention that you'll want to have a fully functioning plumbing/electrical system and be forthright with your local retailer, to see how much of that work they can assist you with. Of course, if you're handy yourself, then you could probably handle the logistics of that yourself.
Article continues below advertisement
If you want to know what it's like to actually live in a tiny home, you can check out Robert's TikTok account where he posts a series of videos asking followers' questions. He built the Tiny House as a backyard studio, but many think it looks like a more-than-viable living space for their needs.
If you're a bit cautious about building a permanent structure, buying a piece of property and living in a trailer is also an affordable/practical solution.
Article continues below advertisement
With rental properties costing more and more every single year, saving up money to afford a home is becoming a more and more difficult prospect for many people. And it's not like that money you're renting with is building up any equity. So, investing that same amount of money you'd otherwise be putting into rent for a plot of land that you develop while living on said land in a tiny home, allows you to save up and build your "forever home" while you're there.
Article continues below advertisement
And if you decide while living in said tiny home that the scaled-down life is for you, then you can just spend your money on other things and continue living in your tiny house.
Dianne Feinstein's Cause of Death: Everything We Know
Senator Dianne Feinstein has passed away at the age of 90 after a long career that grew controversial near the end. What was her cause of death?
The Gist:
California Senator Dianne Feinstein has passed away at age 90.
Her cause of death has yet to be released.
Despite a career that was marred by health complications at the end, she was a trailblazer for women.
Article continues below advertisement
On Sept. 29, 2023, it was announced that Dianne Feinstein passed away at age 90. At the time of her death, the California democrat was the oldest sitting senator and had been in office since 1992. The months leading up to her death were plagued with questions about her health as many called for her resignation. Here's what we know about Senator Feinstein's cause of death.
Article continues below advertisement
What was Dianne Feinstein's cause of death? Colleagues questioned her health for months.
The New York Times reported that Senator Dianne Feinstein "died on Thursday night, according to a family member." As of the time of this writing, a cause of death has yet to be revealed and her staff was in the process of being apprised of the situation. Her health was a topic of great discussion on Capitol Hill since early 2023.
According to NBC News, Senator Feinstein had not "voted in the Senate since Feb. 16, 2023," and in early March, she contracted shingles. At that point, she issued a vague statement regarding her status. "I intend to return as soon as possible once my medical team advises that it's safe for me to travel," she said.
Article continues below advertisement
Feinstein went on to say, "I understand that my absence could delay the important work of the Judiciary Committee, so I've asked Leader Schumer to ask the Senate to allow another Democratic senator to temporarily serve until I'm able to resume my committee work." Politico also reported that during the two months she was away from the Capitol, Feinstein was briefly in the hospital.
Article continues below advertisement
During a hearing on Nov. 17, 2020, Senator Feinstein asked then Twitter CEO Jack Dorsey a question about curbing the spread of misinformation on the social media platform. She then repeated herself, verbatim, despite already getting an answer. This gaffe raised some questions about Feinstein's mental fitness.
Although many felt that she should have retired long before her health declined, Feinstein's contribution to the state of California and democracy in general were significant.
Article continues below advertisement
Dianne Feinstein got a lot done.
During the 30-plus years of Senator Feinstein's time as a California Senator, she certainly made the most of it. In 1994, she helped pass the Assault Weapons Ban, after which the "number of deaths from mass shootings fell, and the increase in the annual number of incidents slowed down," per the Ohio Capital Journal.
Article continues below advertisement
She made some incredible strides in protecting our environment with the California Desert Protection Act (1994), passing legislation aimed at Protecting Catastrophic Wildfires (2003), and authorized legislation that "require the Environmental Protection Agency to issue a rule mandating all major sources of greenhouse gases to report their emissions every year," per her website. As recently as 2019, she was still fighting to protect the planet.
Her concern didn't stop there. In 2022 Senator Feinstein "authored the Senate version of the Respect for Marriage Act (Public Law 117-228), a bill to repeal the discriminatory Defense of Marriage Act, enshrine marriage equality in federal law and provide additional legal protections for marriage equality," per her website. After it passed, President Biden signed it into law on Dec. 13.
Article continues below advertisement
Unfortunately Senator Feinstein's last few months were some of the most difficult of her career. After sitting on the allegations against then–Supreme Court nominee Brett Kavanaugh, she actually hugged Republican Sen. Lindsey Graham while arguing about appointee Amy Coney Barrett. This led to her stepping down as chair of the Senate Judiciary Committee.
The good she did far outweighed the missteps made during her final years in the senate. John Burton, a former California Democratic Party chair, told Politico that she "got s–t done by working with people on both sides of the aisle and refusing to get caught up in unnecessary nonsense. To those lining up to run for her seat, I hope you honor the fact that this powerful lady blazed the trail for you."
Izzy's Lost and Found Drawer on Love Is Blind Is Kind of Icky
Izzy shows Stacy his lost and found in his apartment on 'Love Is Blind' and it shows how many different women have been to his place over the years.
The Gist:
Izzy and Stacy get engaged in Season 5 of Love Is Blind.
When Stacy visits Izzy's apartment, she has some serious concerns about the way he lives.
Izzy has a drawer full of items from other women he has slept with over the years, called his "lost and found."
Article continues below advertisement
Spoiler warning: This article contains spoilers for Season 5 of Love Is Blind.
Some of Love Is Blind's contestants might think the worst is over when they leave the pods, meet their respective fiancés face-to-face, and begin the next part of their journeys. But that's where the drama really gets started and Izzy and Stacy prove that in Season 5. Especially when Izzy shows Stacy his apartment for the first time and introduces her to his "lost and found."
Article continues below advertisement
It's a drawer full of things that past hook-ups left behind in his home. Izzy does little to hide this part of his apartment. In fact, he is open about it to a fault and Stacy is not happy about the idea of her husband-to-be having such a crass way of describing and organizing other women's belongings. Can you really blame her?
Izzy actually has a lost and found in his apartment on 'Love Is Blind.'
Izzy explains that he keeps earrings and other small items that women have left in his apartment in a drawer in the bathroom. It doesn't look like the drawer is spilling over with items, but still. The fact that he has a lost and found for that sort of thing and calls it that is a major red flag for Stacy. She says as much and it's clear that this is part of Izzy's life that gives her the ick.
Article continues below advertisement
It's safe to say that the part of Izzy's life that involves bringing women home for one night stands is over. However, Stacy just can't fathom why he wouldn't throw out these lost and found items before he left home to film in the Love Is Blind pods. It's a fair question.
Article continues below advertisement
'Love Is Blind' fans don't see Izzy and Stacy working out.
The fact that Stacy is majorly turned off by Izzy's lost and found on Love Is Blind just adds to the handful of reasons why some fans don't see this pair working out long-term. One viewer tweeted that both Stacy and Izzy are "emotionally unavailable." Another wrote that they don't think Stacy is even ready to get engaged, let alone married.
And now that Stacy is seeing some red (or, at the very least, a mix of red and green) flags in Izzy, those fans could be right. Stacy has yet to say "I love you," and she appears to be concerned about Izzy's finances. Now, we have this side of him that no one expected. There's just a lot going on and they haven't even picked out wedding flowers yet.
Watch Love Is Blind on Netflix.
What Is Milton's Job? His Résumé Is Wild
Milton from 'Love Is Blind' may be young, but he's dedicated to his career. He has several degrees to his name and is currently getting his MBA.
The Gist:
Milton's career as an engineer on Love Is Blind is really important to him.
He and his fianceé Lydia, who is a geologist, geeked out in the pods over their similar fields.
Milton graduated from college already making a six-figure salary, but recently decided to go back to school.
Article continues below advertisement
Spoiler alert: This article contains spoilers for Season 5 of Love Is Blind.
When contestants on Love Is Blind start talking in the pods, it's likely that one of the first questions that comes up is "What do you do for a living?" While it's not often that contestants will bond over their jobs, Milton and Lydia from Season 5 really seemed to hit it off when it came to talking about their respective fields. While Lydia confirmed she is a geologist, what does Milton do for work? Here's what we know.
Article continues below advertisement
Milton was making a six-figure salary while filming 'Love Is Blind,' but has since went back to school.
Milton entered Love Is Blind at the age of 24. While he may have acted his age at times, he is actually very serious about his education and career.
Milton graduated from Quest Early College High School in 2016 and earned an associate's degree in mathematics from Lone Star College the same year, per LinkedIn.
He then attended the University of Houston from 2016 to 2019, where he majored in petroleum and geotechnology. Milton then went on to get a master's degree from the University of Texas at El Paso in 2020. In 2023, Milton also started pursuing an MBA at Rice University, which he expects to complete in 2025.
Article continues below advertisement
At the time of filming Love Is Blind, Milton worked as a senior pipeline control center operator at EverLine. And as his roommate Josh confirmed in Episode 6, he was making a six-figure salary at the time.
But in Nov. 2022, Milton actually switched jobs. He now works as a management trainee at Vopak while also studying at Rice. It's unclear if he is trying to pivot to a different career as he is pursuing his MBA, but his role at Vopak still falls within the oil and energy wheelhouse.
Clearly, he has a bright future ahead of him and appears to be serious about finding a partner who shares his values and goals. This may be why he decided to set his eyes on Lydia.
Watch Love Is Blind Season 5 on Netflix